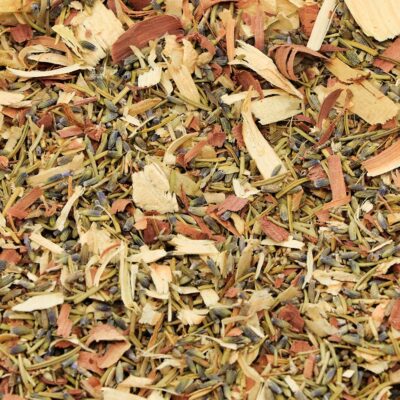 Wooly Bully Herbal Moth Repellent
$8 – $78
A fantastic alternative to mothballs with its earthy, herby fragrance of lavender, cedar, peppermint and clove. Cedar shavings, lavender, and rosemary form the base of this very practical potpourri. Use it to keep clothing moths away from precious natural fibers, like fine woolen sweaters, yarns, and rugs.
Use at least 1/2-cupful of Wooly Bully in an area equivalent to a 2'x1' drawer.  Place in cloth sachet bags and set in drawers and closets.  It works wonders stored with yarns and other natural fibers and textiles.  Try our Wooly Bully Refresher Oil to restrengthen it each year.
Want to try some different scents?

Browse our full collection of potpourri blends and remember you will save when you purchase 3 or more of any one size in any scent!