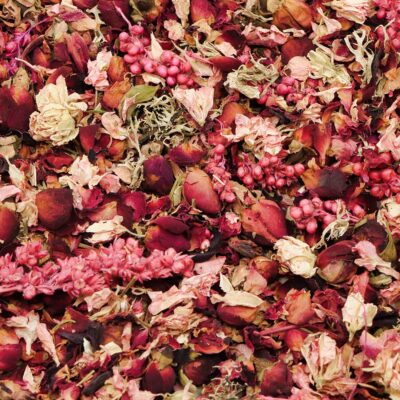 Sensuality Potpourri
$5 – $84
Sensuality potpourri inspires you to connect to the beauty in life. We blend jasmine with rose, sandalwood, and just a hint of patchouly to bring depth to the scent. Pink rose petals and red rosebuds, pink pepperberries, and other soft botanicals round off this beautiful blend.
What sets our potpourris apart from other potpourri companies? The Herb Lady Potpourri is pure and natural. We lovingly blend our potpourri by hand in small batches. Our blends feature perfectly dried real flowers and herbs. We scent our potpourri with high quality oil blends, with fragrances that are true to nature. Our potpourris are a delightful way to bring the beauty of nature into your home.
Want to try some different scents?

Browse our full collection of potpourri blends and remember you will save when you purchase 3 or more of any one size in any scent!