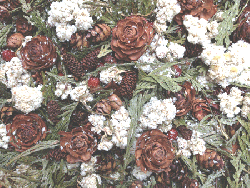 Mountain River Potpourri
$8 – $78
A gentle woodsy and clean blend inspired by peaceful days at the river. Has scent notes of cedarwood, sandalwood, and balsam.  Mountain River features white pearly everlasting flowers, cedar rose cones, and a variety of other woodland leaves and cones. A sparklingly clean woodsy fragrance.
Want to try some different scents?

Browse our full collection of potpourri blends and remember you will save when you purchase 3 or more of any one size in any scent!