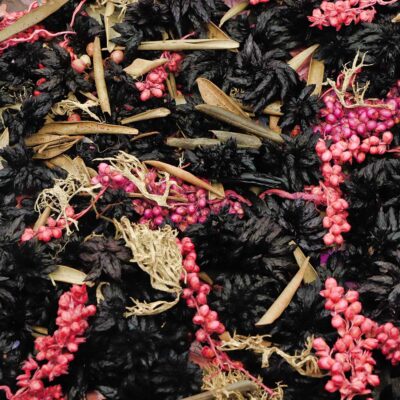 Luna Potpourri
$5 – $84
Luna is our most exotic potpourri. This is also the only potpourri in our line that has a dyed botanical as one of its ingredients. Deep black starflower (dyed) is combined with pepperberries, olive leaves, and cedar moss. The color effect is extraordinary for a potpourri. And its rich, sexy notes of sandalwood, amber, and patchouli oils are beautiful and long-lasting. Our matching Luna Refresher Oil makes a fabulous perfume.
What sets our potpourris apart from other potpourri companies? The Herb Lady Potpourri is pure and natural. We lovingly blend our potpourri by hand in small batches. Our blends feature perfectly dried real flowers and herbs. We scent our potpourri with high quality oil blends, with fragrances that are true to nature. Our potpourris are a delightful way to bring the beauty of nature into your home.
Want to try some different scents?

Browse our full collection of potpourri blends and remember you will save when you purchase 3 or more of any one size in any scent!