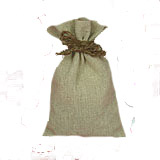 Linen Sachet
$3.50 – $11
This simple linen sack with a handy hemp drawstring cord holds scent beautifully. It's 4″ x 6."
You can purchase this unfilled, or filled with potpourri. If you'd like your sachet filled select the potpourri from the drop-down list.
We package each filled sachet in a cellophane bag, and add our colorful logo label and a potpourri name label.
Want to try some different styles? Browse our full collection of filled sachets and enjoy $1.00 off each when you purchase 3 or more filled sachets!